Expert Hair Color Services at 605 Styling Co in Sioux Falls
Finding the right hair color can have a transformative effect not only on your look but also on your personality as it will leave you feeling more confident than ever! So, let the hair color experts at 605 Styling Co Hair Salon in Sioux Falls find the perfect hair color for you so that you can look and feel fabulous all the time. Our skilled team of hair color technicians are highly trained in the latest hair coloring techniques and so we provide the best hair coloring services for both men and women in Sioux Falls.
At 605 Styling Co, we offer a full range of hair color services including beautiful balayage, highlights, full head color, color correction, and more.
We Love Hair Color Transformations
Not every color appointment is a total makeover, but if you're ready, 605 Styling Co is the place to go!
We are very experienced in all aspects of hair color and can handle complicated color requests like dramatic color changes, extreme lifting and transitioning into and out of fantasy colors.
Book A Free Hair Color Consultation At 605 Styling Co Hair Salon, Sioux Falls
If you're not sure which hair color would look best on you, book in for a free hair color consultation with one of our expert colorists who are sure to find a color completely suited to you. They will take into account your hair type, skin tone & style to help find the ideal hair color for you.
Whatever you're after, we've got you covered at 605 Styling Co – from natural shades to grey coverage, vivid fashion colors to pretty pastel hair colors. For more inspiration, keep reading for information on all our different color services…
Read on for more hair color pictures or visit our Gallery.
Single Process Color & All-Over Hair Color
Single process hair color is the application of one single color, either to enrich your color all over or to touch up your roots. Single process colors are a great way to add softness and healthy shine to your hair. A full head of hair color can create vibrancy, whether it's ravishing red hair colors or rich chocolate brown hair shades. Our professional hair color experts will help you decide on a hair color that complements your complexion and style.
Foil Highlights & Lowlights
Highlights are a gorgeous way to lighten and brighten your hair color. We offer a range of shades for different hair colors such as buttery blonde tones, vibrant reds, and warm chocolate brown shades. So, whether you've got blonde, brunette, or black hair, we're sure to find the perfect shade to use as highlights to accent your hair. If you want to make a statement, you could even have a bold fashion color put in as highlights – such as a pop of pink or a shock of silver!
If you're looking to add some depth & dimension to your hair, then lowlights can be used to do just that! Lowlights involve using a shade that is darker than your natural hair color to add some richness & volume. Deep chestnut brown hair color & burn auburn shades are some of the gorgeous colors that look amazing when applied as lowlights.
Babylights & teasylights are also on highlighting techniques brighten your hair! Babylights are delicate highlights that are applied where the sun would naturally lighten your hair. While teasylights involve teasing your hair before applying the color so that hair is accented from the mid length to the tips, as if you had a balayage. Keep reading to find out more about balayage...

Balayage & Hand Painted Highlights
Balayage continues to be a top request, with blonde balayage being a popular choice. The word balayage comes from the French verb 'to sweep' which best describes this hand painted highlighting technique. Our skilled colorists hand paint your highlights by sweeping lightener from the mid length to the tips. Balayage is great because it's a low-maintenance look as your root regrowth will be less noticeable than it would be with other hair coloring techniques. Balayage can also be applied using foils which is known as foilyage. The foils help warm the lightened sections of hair and extend the dry time, allowing the lightener to work a bit longer for added brightness.

Vivid & Pastel Colors
Stand out from the crowd and make a statement with a vivid fashion hair color! For a totally on-trend look, try out a bold hair shade like red, auburn, or blue. For a softer look try out a pretty pastel hair color, like pale pink or baby blue. Your fun fashion hair color can be applied as an all-over color, highlights, or even balayage. Whatever hair color you desire, our expert colorists at 605 Styling Co will create!
Color Correction & Color Balancing
When hair color goes wrong, it can really go wrong…but don't panic! At 605 Styling Co Salon, our highly trained team has the knowledge & skills to rectify hair color disasters. Whether you used an at-home hair dye kit that turned out to be the wrong shade, your hair color is patchy or you've just changed your mind about the color you've had applied, our professional colorists are here to help! Using the best Olaplex products, we will restore your hair to a color and condition that you'll love once more. Just leave it to the professionals – your hair is safe with us!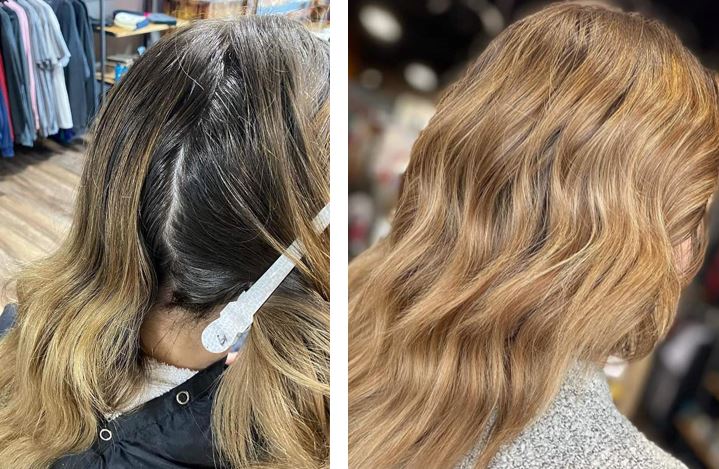 Color correction doesn't have to be so dramatic! Sometimes your hair just needs color balancing. If your lightened hair has gone too far, we can tone it down to a shade that works better for your complexion. If your color has grown out, leaving you with several inches of regrowth, we know how to carefully lift the roots and apply color or highlights throughout so that you have consistent color.
Book in for a complimentary color consultation so that we can assess the problem and discuss the plan to fix your hair color. Book your consultation here now!
Book A Hair Color Appointment At 605 Styling Co Hair Salon in Sioux Falls
Transform your look with a new hair color! Book your hair color appointment at 605 Styling Co in Sioux Falls by calling us on +1 605-271-1581 or book online today.
Blonde Highlights, Balayage and Hair Color Near Me
Sioux Falls
Northwest Sioux Falls
Hartford
Crooks
Dell Rapids
Renner
Brookings
Brandon
Colton
Mitchell